The Method Made Design Lab
We are a small (but mighty) team of creators that specialize in bridging meaningful collaborations through art and design both digitally and in-person.
Step into the Method Made Marketplace and immerse yourself in a diverse selection of products showcasing our dynamic retail and gallery space, METHOD MADE SF, located on the Mission in San Francisco.
We are your source for original and unique apparel, merchandise and accessories to decorate your valued spaces and attire.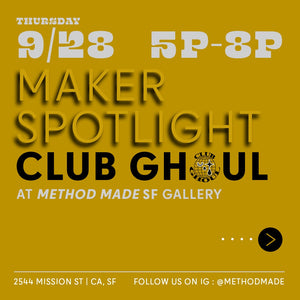 Maker Spotlight Series : Thursday 9/28
Join us on Thursday, Sept. 28th, after hours between 5pm - 8pm inside Method Made SF at 2544 Mission St, San Francisco.

This weeks "Maker Spotlight Series" will feature Oakland based ink supply chemist, Club Ghoul. Join us for live product demonstrations and mellow out for a sketch session. Now you know what to do on a Thursday night.
Learn more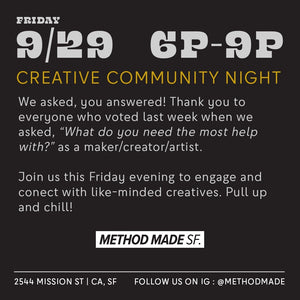 Creative Community Event Night : Friday 9/29
Last week we posted a question in our stories asking you, the creatives, what you currently need help with the most. You answered, "To build more with other creatives".

Ask and you shall receive! Join us this Friday, Sept 29th between 6pm - 9pm at Method Made SF, 2544 Mission, San Francisco. Cool out with us and other like-minded folx to talk shop, get inspired, and bring this community together.
Learn more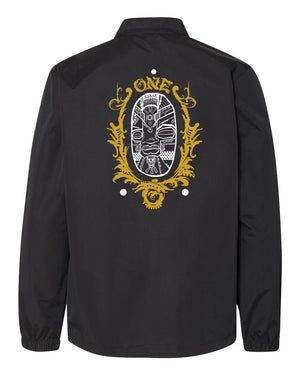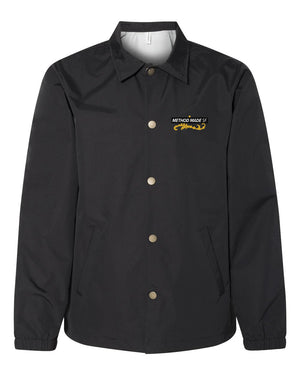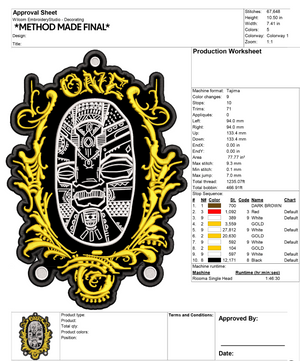 ** LAST DAY TO PRE-ORDER 9/29! **
Reserve your jacket (or patch) before its too late. Expected completion/delivery date during the "ONE" Deadeyes x Patrick Hofmeister Closing Exhibition, mid-October. Rock this dope piece in time before the holidays!